Our Suppliers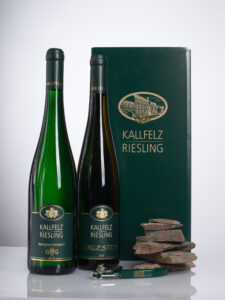 KALLFELZ Riesling Wein & Sekt
The winery currently covers about 50 hectares of vineyards. Much of it lies in mineral-rich slate slopes that are among the best in the world. The motto of the winery is: "From the idealist for the individualist". This is based on the conviction that good viticulture can only be achieved with a lot of diligence and honest craftsmanship and that connoisseurs can really taste the fruits of this work.
The Moselle valley produces unique Rieslings. Our slate slopes allow the wines to become delicately fruity and mineral. We do everything to preserve this treasure of nature.